Trucking news and briefs for Thursday, September 22, 2022:
Price Digests Recognizes Trucks With Best Retained Value
Price Digests, a provider of vehicle value and specification data for more than 100 years, has announced the finalists for its fourth annual Price Digests Highest Retained Value Awards (HRVA) – the program uses third-party, unbiased and based on commercial truck data to recognize which best retain their value. Price Digests is powered by The Truck Blue Book.
Price Digests, a sister company of Randall Reilly Overdrive, features awards in nine categories honoring 2022 model year Class 3 through 8 commercial trucks, ranging from lightweight to heavyweight. The finalists represent the model series in each category that are expected to retain the highest percentage of their original value over the next five years.
"We look at the most popular commercial trucks and vans on the road and use proprietary algorithms to identify which ones are expected to retain the most value over the next five years," said Kurt Wilson, chief data analyst. at Price Digests.
The winning trucks and vans will be announced Oct. 23 at the American Trucking Associations Management Conference and Expo in San Diego.
This year's finalists are:
FMCSA plans to require electronic IDs on trucks
The Federal Motor Carrier Safety Administration is considering changing its regulations to require that every commercial motor vehicle traveling between states be equipped with electronic identification technology capable of wirelessly communicating a unique identification number to federal or other personnel. state responsible for the enforcement of motor carrier safety.
The FMCSA said it is considering the changes "to improve the efficiency and effectiveness of the roadside inspection program by more fully allowing law enforcement agencies to focus their efforts on high-risk carriers and drivers." risk".
The agency said it does not currently require trucks to be equipped with systems capable of transmitting such identification. The agency provides grants to states for technology projects that allow inspectors to electronically identify a truck; check their height, weight and identification information; and review the carrier's past safety performance while the vehicle is in motion.
The agency added that it is testing Level 8 electronic inspections to improve its current process for monitoring and enforcing security compliance. The tested electronic inspections would allow the FMCSA to "assess safety compliance on the road" as a truck moves, "thereby minimizing disruption to the motor carrier and, therefore, the supply chain." The agency touted Level 8 inspections as a way, too, to reduce "emissions across the country."
The FMCSA's current advisory, an Advance Notice of Proposed Pre-Regulatory Regulation, stems in part from a 2010 Commercial Vehicle Safety Alliance petition that called for all commercial vehicles used in interstate commerce to be equipped with an electronic device capable of transmitting a unique identification number when interrogated. by law enforcement. The FMCSA denied the petition in 2013 due to a lack of information regarding the costs and benefits of an electronic ID warrant.
The CVSA requested in 2015 that the FMCSA reconsider the denial and provide more information, and the FMCSA granted the request in November 2015.
Comments will be accepted upon notice from the FMCSA regarding the proposed rulemaking for 60 days beginning Friday, September 23. Comments can be made at www.regulations.gov by searching for file number FMCSA-2022-0062. A direct link to the comments page will be added to this article when available.
The agency asks respondents to provide information on the best possible technical and operational concepts, as well as costs, benefits, security, vulnerability, privacy, and other relevant operational and deployment implications. A complete list of matters on which FMCSA seeks information can be found in Section VI of the filing article when published.
[
Related:
 'Virtual weigh stations' in Alabama, Automated e-inspections demonstration, more with inspection data from
Overdrive's CSA's Data Trail hub
]
Drivewyze weigh station bypass network to add road hazard alerts
Drivewyze weigh station bypass network and HAAS Alert, creator of the Safety Cloud automotive "connected safety" platform, have announced a new collaboration to integrate Safety Cloud into Drivewyze's "Connected Truck" platform. The aim is to provide digital alerts about vehicles and equipment on the roadway to drivers via the in-cab Drivewyze app.
"Maintenance, emergency response and work zone events can often put vehicles and equipment into situations that can be hazardous to workers and drivers," said Brian Heath, CEO of Drivewyze. "This collaboration will give commercial truck drivers additional reaction time to slow down and move as road operations approach, helping to avoid potential accidents."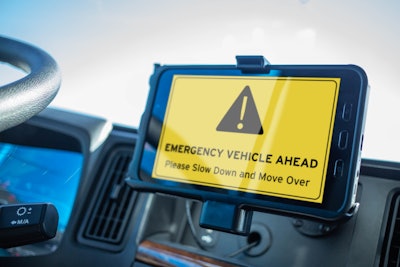 Heath added that the company looks forward to "working with major transit agencies to unlock IoT capability in their roadside assets, so drivers are informed in advance of potential risks."