Ballast, sleepers, rail, bridge/retaining walls/tunnels, class 1, freight, news, track maintenance, rail news, safety/training, technology, track maintenance, track structure

Written by David C. Lester, Editor


CN advances automated track inspection.
NC
For the past two years, RT&S has reported on Canadian National's automated track inspection program.
The first report was in 2020 and the second report was in 2021. This report provides an update on CN's program and contains videos that were featured in the 2020 report. These videos are worth watching for more. learn more about the program.
Officially launched in 2020, CN leveraged Autonomous Inspection Systems, combining state-of-the-art sensing technologies and advanced analytics to inspect track at commercial speeds, without interrupting network operations or further exposing employees. on the way to safety.
At the heart of CN's ATIP is a fleet of fully automated cars that use wireless communications to test and monitor track geometry parameters in real time and track asset condition assessments without interrupting train operations. normal. With its ATIP cars powered by solar panels and a generator and running at pay service speed, CN conducts track inspections 24 hours a day, 7 days a week, 365 days a year, thanks to these platforms. fully self-contained and self-contained test stations.
What differentiates CN's program is its fleet size, on-board technologies and unique back-office systems. This distinctive approach allows CN to achieve inspection frequencies well above traditional means and provides unparalleled visibility into the safety and integrity of our tracks. Since its launch in 2020, CN's ATIP fleet has traveled more than 1.5 million miles between Chicago, Prince Rupert, Vancouver, New Orleans and Halifax.
Using advanced electronic sensing technologies, ATIP analyzes track geometry and components in near real time, allowing maintenance employees to proactively protect, repair and mitigate track conditions as soon as they are identified. . Testing capacity, backed by the size of our fleet, results in significantly improved track safety. In 2021, following unprecedented flooding in British Columbia, CN was able to deploy an ATIP car in continuous service to protect its critical infrastructure in southern British Columbia, ensuring that any lane variations or attitude is identified and corrected before any problem occurs. In fact, across the entire network, ATIP has resulted in a more than 93% reduction in lane exposure to help improve network security.
As part of Intelligent Engineering Systems (IEBS) and Information and Operations Technology, CN continues to innovate and evolve its autonomous inspection program. In the United States, for example, the Federal Railroad Association has approved the ATIP test program to move to Phase 3 based on safety measures and results to date, allowing CN to continue to assess and optimize automated track inspections. In addition, given the strong performance and security results of ATIP, Transport Canada has adopted the use of ATIP technology in its updated railroad security rules and methods. inspection in Canada.
With our strong guiding principle of being the safest and most respected railroad in North America, CN is evolving from a traditional railroad to the digital and connected railroad of the future. Next-generation technology and intelligent engineering business systems are designed to deliver real-time insights to our teams and customers, and lay the digital foundation that will take us safely into our next century of operations.
ATIP in brief:
Solar power and generator for uninterrupted service
Positioning system for precise location of assets
Real-time wireless communications and alerts
Autonomous embedded data processing systems
Laser measurement of track geometry
Continuous rail shape measurement for optimal alignment of profile, rail distance and level deviation
3D track evaluation system and component analysis (ballast, sleepers, spikes, plates)
Cross-plane LIDAR provides a 3D view of the rail corridor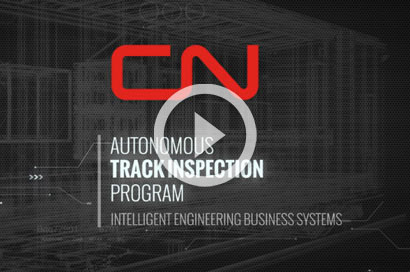 Categories:

Ballast, sleepers, rail, bridge/retaining walls/tunnels, class 1, freight, news, track maintenance, rail news, safety/training, technology, track maintenance, track structure