West Plains, MO- Following the June fundraiser in Missouri, three freshwater hand pumps were installed in Pakistan by the Nehemiah Trust Pakistan Water Hand Pump Project. The group received donations for eight wells from June 23, 2022 to August 4. The first three pumps were installed on August 8 in the Jhool Tando Adam area.
The groups and individuals who made donations for the installation of the wells were:
West Plains Sunrise Rotary Club
Rotary Club of Willow Springs
Rotary Club of Thayer-Mammoth Spring (2 wells)
Western Plains Rotary Club
Ramona Heiney Insurance Agency, Inc.
Tom Marhefka
Tom and Kim Roberts
According to project information, impure water causes 40% of deaths in Pakistan every year. About 62% of the urban population and 84% of the rural population in Pakistan do not treat their water, resulting in more than 100 million cases of diarrheal disease recorded in hospitals, with 40% of deaths attributed to water consumption. polluted water. A survey estimates that each year nearly 53,000 Pakistani children die of bacterial diarrhea due to contaminated water.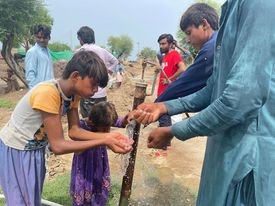 Each $600 donation enables the Nehemiah Trust Pakistan to place a hand-operated water pump in a village that will serve 80-100 people. To donate, visit West Plains Bank and Trust and inquire about Nehemiah Trust Pakistan Benefit Account. Learn more about the program at www.nehemiahteam.com or contact Anthony Priest at 417-293-5954
Local program helps bring fresh water to villages in rural Pakistan