The godfather of funk hosted a performance and conversation at NeueHouse on May 17 to celebrate the unveiling of his art in New York.
George Clinton, the godfather of funk, made his New York visual arts debut at NeueHouse Madison Square on Tuesday with the unveiling of "Light Years," an art installation that features a number of paintings by the ancestor funk.
The artist responsible for a string of hits that includes 'Give Up the Funk', 'Flash Light' and 'Atomic Dog' took the stage at NeueHouse on Tuesday to discuss his nearly six-decade long career and perform with a shortened version of Parliament-Funkadelic, a collective he has led since the group formed in Newark, NJ. The program was presented by art dealer Spring McManus in conjunction with the Blue Note Jazz Festival as part of Frieze Week NYC, an international art fair. A number of Clinton's works are on display in the workspace for visitors to view through June 17.
Nearly 200 guests filled the elevators leading to the 12th floor of NeueHouse to attend this exclusive event. Some high-profile attendees were spotted having fun at the gallery, including Living Colour's Vernon Reid, producer and DJ David Guetta and artist Lynn Goldsmith. Scattered throughout the building were Clinton's paintings, which often depict characters familiar to P-Funk fans, including dogs and UFOs.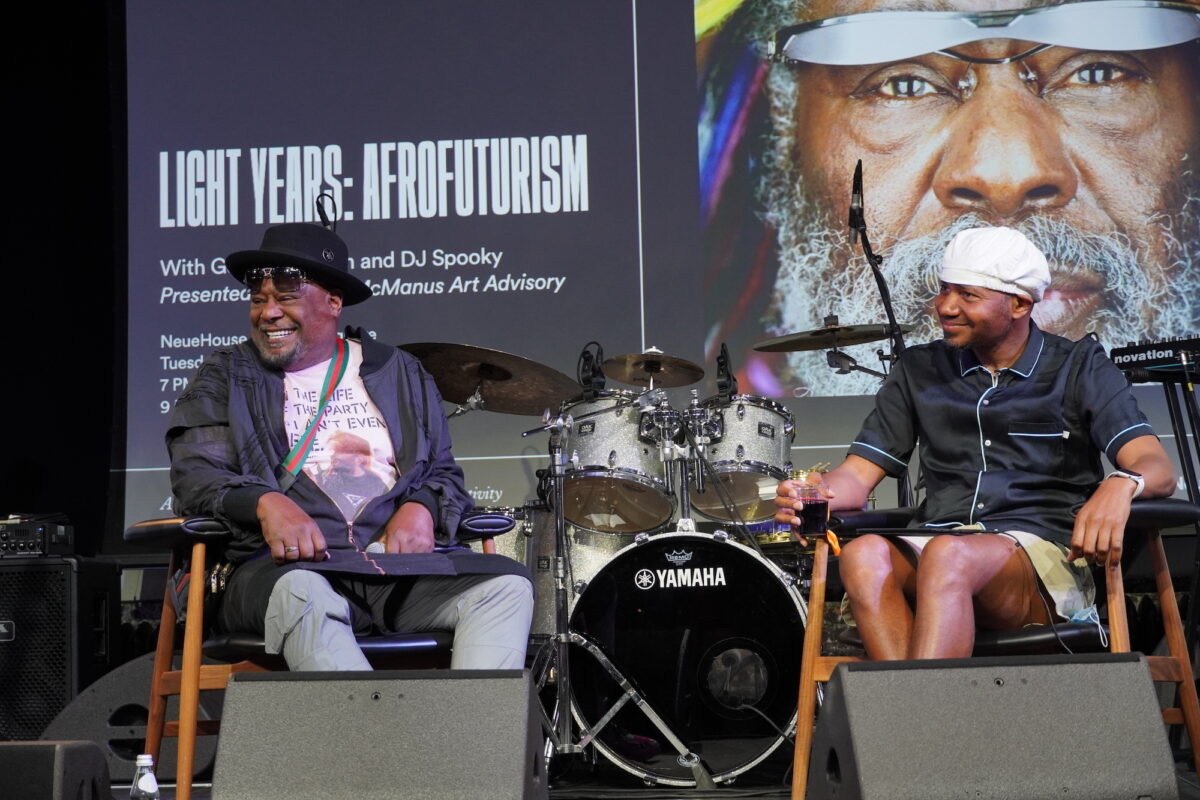 The program began with a discussion between Clinton and moderator DJ Spooky who attempted to illustrate the significance and significance of Clinton's six-decade-long career to the art-loving crowd. For hardcore P-Funk fans, the topic of conversation was nothing new, but for those unfamiliar with the scope of Clinton's work, the discussion provided a superficial understanding of the impact that Clinton's work has had on contemporary music and art. The pair reminisced about Clinton's days as a barber in Plainfield, NJ and reflected on songs throughout the funk master's career before discussing his craft.
Clinton started painting after selling a doodle he made of a dog, a nod to his 1982 hit "Atomic Dog" and something he often added to autographs.
"I sold one for $20,000," Clinton told the crowd at NeueHouse. "I had an instant habit!"
During the conversation, Clinton credited prominent P-Funk artists Pedro Bell and Overton Loyd with influencing the way she painted. Clinton's art is vibrant and textured. Interestingly enough, Clinton is color blind and compares her approach to painting to going to the barbershop to cut her hair.
"I was a barber, so I know how to bleach hair," Clinton said. "Fade, blend from light to dark. I know this concept without being able to see anything colored. There's texture and value, I can do that with paint.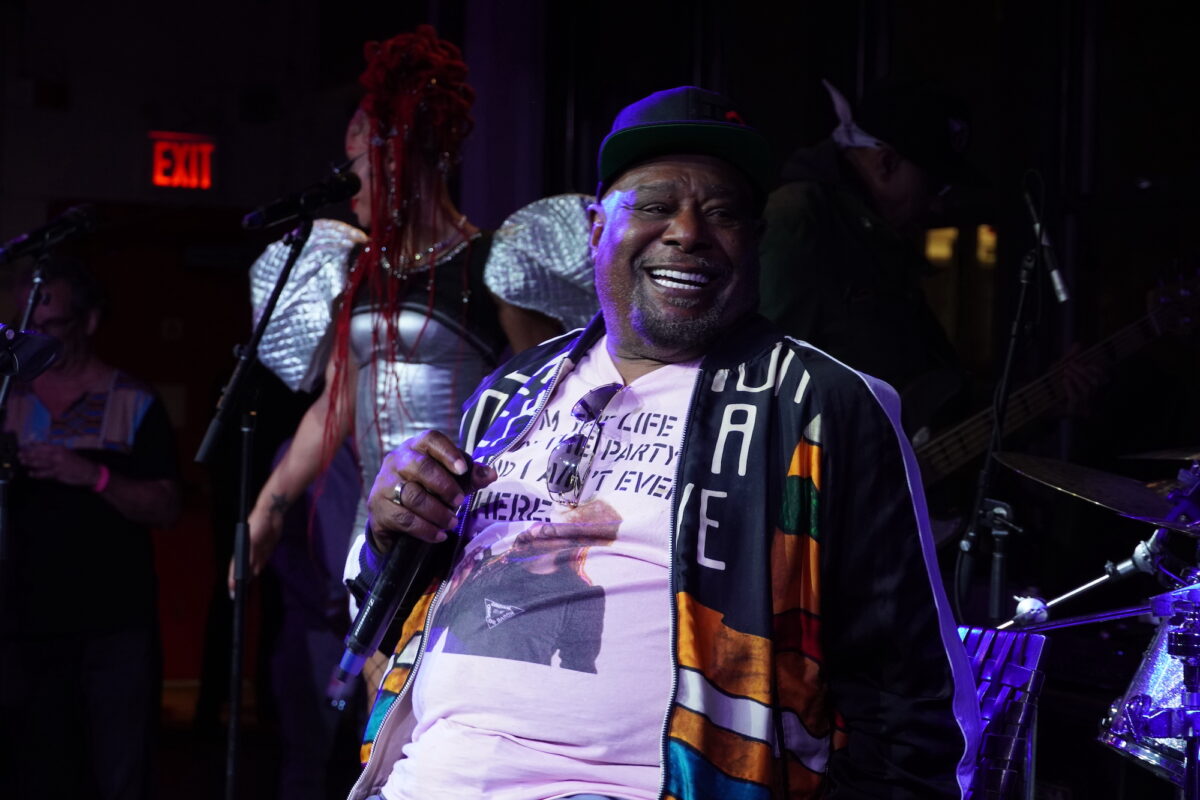 After the conversation, attendees viewed Clinton's artwork on display in NeueHouse before returning to the 12th floor for an intimate hour-long performance by Clinton and her band. The godfather of funk was joined on stage by bassist Lige Curry, keyboardist Danny Bedrossian, drummer Benzel Baltimore and vocalists Thurteen, Scottie Clinton and Tonysha Nelson, all current Members of Parliament-Funkadelic.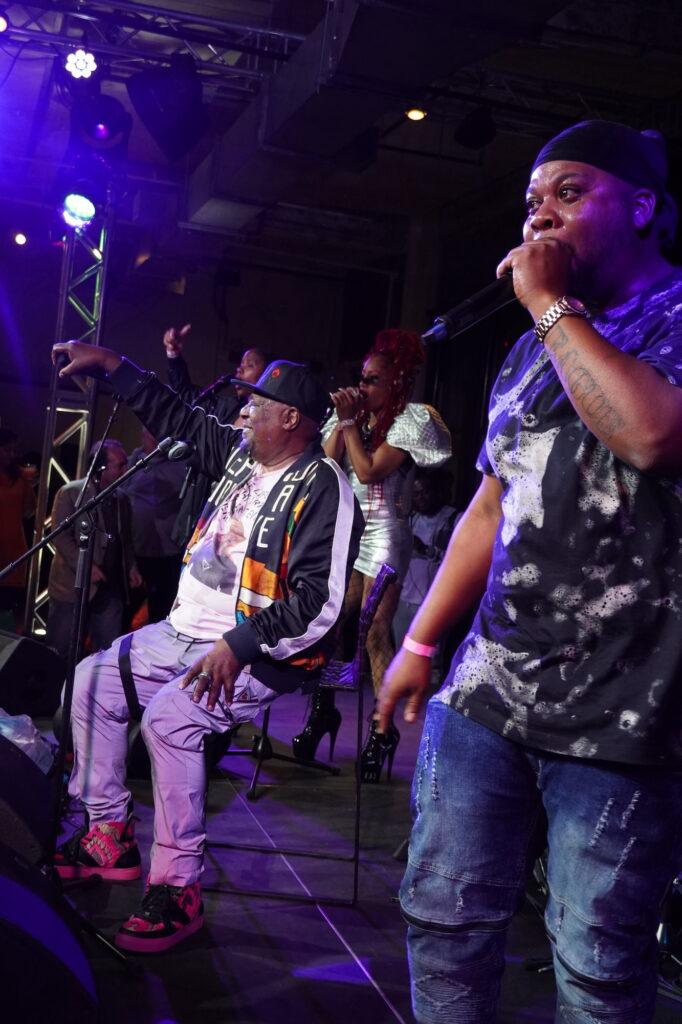 The band ripped up an energetic and fun set that included P-Funk staples like "Up for the Down Stroke" and "Red Hot Mama," as well as early-day tracks like "Music For My Mother." Clinton was in his usual form, commandeering the audience into the dance like only the master of funk could. The audience obeyed the laws of funk, growling so loudly the floor should have crumbled.
At the end of the night, all of the funky art lovers, collectors and purveyors left the gallery in a funky haze.