expolight unveils the art installation 'dnipro light flowers'
in the ukrainian city of dnipro, thirteen unused pipes belonging to a former factory site have been kept intact for many years. recently, local studio expolight revitalized 5 of these plant chimneys — converting them into "a new image of digital blooming flowers". the chimneys now serve as part of a post-industrial art installation called the 'dnipro light flowers', with pixel lights, lasers and wireless synchronization.
winner of the 2021 lighting design awards, this intervention symbolizes the city's development strategy; such a large-scale installation will inevitably attract tourists and inject new life into the urban fabric, the studio claims. Eventually, all thirteen chimneys will take part in the project – turning into a veritable technological garden that covers a distance of 7 km, visible from the right side of the Dnipro bank.
all images via expolight
real-time digital light show that adapts to any theme or event
expolight (see the works here) blanketed the pipes in 2,500 pixel lights and installed 60W lasers above each, creating a scale of color and lighting dynamics that fit any show, event and holiday. twice a week, for example, a 5-minute laser light show accompanied by music can be watched from two main viewing platforms the studio has built with audio equipment for visitors to enjoy.
once the show started, 'light, lasers and sound are launched simultaneously in real time thanks to the sophisticated software we have developed for wireless synchronization across the river,' expolight sharing.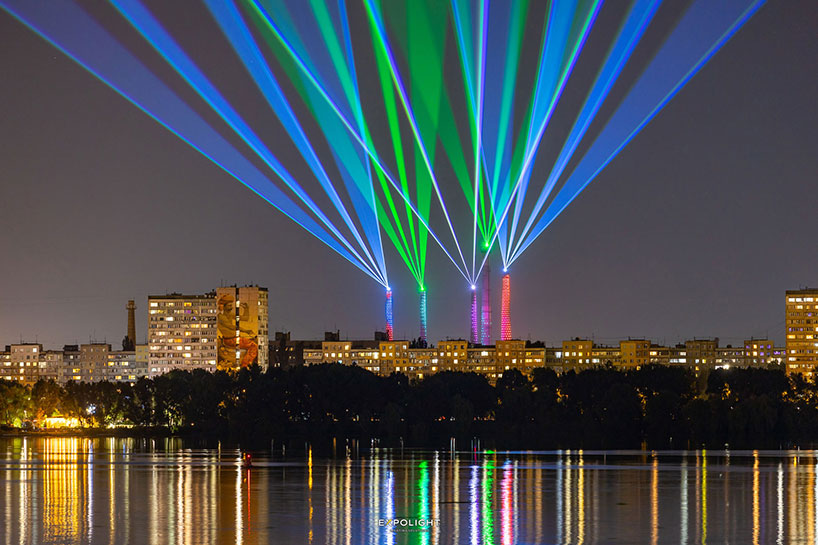 Besides the 5-minute laser show, the installation can adopt a particular theme to honor certain events, both local and international. on one occasion, the pipes displayed themed colors to support rare disease patients around the world. likewise, the five monoliths were once lit as a memorial candle to commemorate victims of the 2014 Dignity Revolution in Kyiv.
But there is more. Ordinary citizens can also participate in an individual launch of "Dnipro light flowers" ​​- on the sole condition that they make a donation on a web application to help sick children. the application is accessible via viewing platforms by scanning a QR code. 'these launches will not only be incredibly spectacular but also important for those who need help," reflects expolight.
https://www.youtube.com/watch?v=j61VL0UCCCCE