If you love old cars, you know they have charm in their looks, but their sparse instrumentation leaves something to be desired and, of course, those old machines bear no relation to today's wired world. Earlier this year, Berlin-based Incari announced that it had partnered with Strate School of Design Bangalore and Design 1880 in France. The three partners plan to retrofit advanced human-machine interfaces (HMIs) in classic cars. For some car enthusiasts, it will be a sacrilege. For others, it's a welcome update. Which side are you on?
Retrofitting old cars with modern electronics is a real thing. Classic Porsches and VW microbuses are electrified, leaving their internal combustion guts by the wayside. A new breed of classic car collectors eschews the immaculate restoration of old automotive technology in favor of the comfort and eco-sensitivity of a restomod (a modified restoration of a classic vehicle). While today's retrofit market is primarily focused on drivetrain electrification, Incari is focused on integrating new technologies that improve the driver experience in older cars. However, this partnership is not limited to cars. It seems that any type of transport – boats, for example – is fair game.
This is not a new venture for Incari. The company has experience integrating state-of-the-art HMIs into vintage cars. For example, Incari has updated the instrument cluster into an electrified DeLorean, dubbed e-Lorean, in partnership with Wunderkind Invest. Unfortunately, Incari has not developed a flux capacitor or Mr. Fusion power source, but the e-Lorean now sports specially developed electric drive components with a unique HMI.
Incari has updated the dashboard of the e-Lorean, an electrified DeLorean.
Incari worked with Design 1880 to electrify a classic Fiat 100 (pictured below) and outfit it with a digital display, Bluetooth connection and smartphone holder with inductive charging, all while mimicking the style The original car so the mods look like it was developed during the same period as the rest of the car.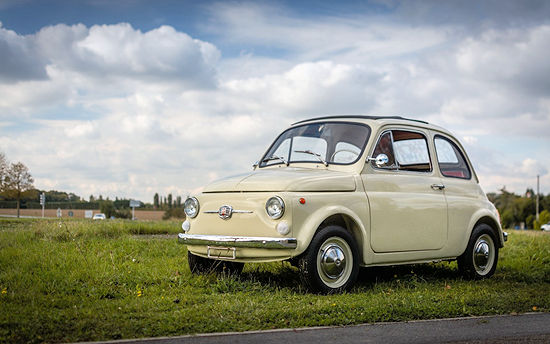 It looks like an old Fiat 100 on the outside, because it is, but it's electrified.
A circular digital display replaces the Fiat's analog speedometer. The screen shows battery consumption and can be customized for other functions.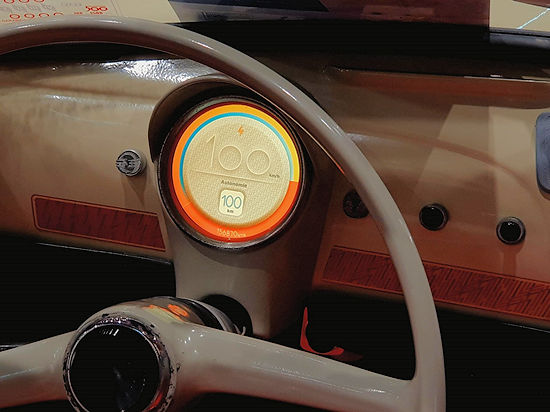 The electrified Fiat 100 features a modern digital HMI integrated into the circular space previously occupied by the mechanical speedometer.
Why do all this work for a very limited market? Retrofits are not Incari's main interest. The company offers a software development platform called Incari Studio with an "intuitive visual user interface" for designing modern HMIs. These classic car retrofits are a unique way to showcase the Incari Studio development platform.
Incari Studio supports the UI/UX creation process through a modular architecture and a drag-and-drop interface, which allows designers who lack programming skills to design complex interfaces using 3D graphics and animations. The platform then generates code from the design. The drag-and-drop design approach saves time while maintaining flexibility. The company claims development time reductions of up to 70% based on recent projects.
Of course, maximum flexibility usually comes from a programming interface, where you can do whatever the underlying programming language supports. Drag-and-drop tools with automated code generation have been around for a long time and continue to improve, but they're never as flexible as writing code.
It seems to me that Incari's scope is somewhat short compared to the aspirations of other automotive development platform efforts like Qualcomm's Ride platform, which aims to develop software systems for electric vehicles (EVs). ), advanced driver assistance systems (ADAS), automated driving (AD) and autonomous vehicles (AV). Qualcomm launched the Ride platform in January 2020 and expanded it to include the Snapdragon Ride Vision System — an open, scalable, and modular computer vision software stack — at this year's CES. Additionally, Qualcomm is evolving the Ride platform into a more expansive offering called Snapdragon Digital Chassis.
The Ride platform goes far beyond Incari's look-and-feel development platform. It offers a range of options for developing vision-based ADAS and AV systems that integrate perception and sensing software, which is used for static and dynamic object detection, classification and tracking. This platform can be used to develop entry-level New Car Assessment Program (NCAP) front camera applications to higher levels of automation that leverage front and surround cameras.
Earlier this year, Qualcomm, BMW Group and Arriver announced that they were forming a long-term strategic cooperation agreement to jointly develop automated driving software solutions. The three companies will jointly develop software based on the current BMW AD software stack, first launched with the BMW iX in 2021. BMW will further expand this AD software stack through this cooperation agreement. Previously, BMW and Qualcomm announced that BMW's next-generation AD system will be ported to Qualcomm's Snapdragon Ride Vision SoC and integrate Arriver's computer vision software stack. Qualcomm then acquired Arrive.
It seems to me that something like Qualcomm's efforts to develop ADAS and AD systems is necessary, given the size of the automotive market. Similarly, massive efforts are needed to ensure that security is built into future ADAS, AD, AV systems. There have been recent and dramatic failures of the ADAS, AD and AV systems, and it would be wise to eliminate these faults from the system as soon as possible.
The rest of the auto industry could come closer. In May, Volkswagen's Cariad software division announced it would source chips from Qualcomm to develop autonomous driving software, which VW has made the core of its future strategy. Cariad's platform aims to enable automated driving up to Level 4 standards, where the car handles all aspects of driving in most circumstances without human intervention. According to Volkswagen, you should expect to see cars from the company with these capabilities appearing around the middle of the decade.
Besides BMW and Volkswagen, General Motors (GM) and Stellantis have also announced that they are partnering with Qualcomm to develop advanced automotive software. In January, GM announced that Qualcomm chips will power the "Ultra Cruise" driver assistance feature on a Cadillac luxury sedan – the all-electric Celestiq – next year. In April, Stellantis announced that fourteen of its automotive brands – including Fiat, Jeep, Maserati and Peugeot – will use Qualcomm's vehicle cockpit and 5G telematics technology from 2024.
Personally, I don't know how all of this is going to turn out given the current shortage of semiconductors. When cars ship without basic features like heated seats because there aren't enough automotive chips to go around, I have no idea how we'll see those wonderful ADAS, AV, and AD features show up in cars two or three years from now. However, I totally agree that my skepticism is drowned out by reality.
Related