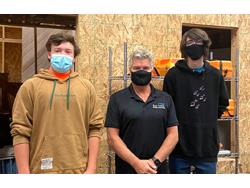 Traverse City, MI, November 2, 2021-Northwest Education (North Ed) Services Career Tech, in conjunction with Bay View Flooring & Design Center, has launched a new flooring installation track as part of its learning program construction trades.
For over a decade, Bay View Flooring owner Tim Hyland has been a guest speaker at local building trades courses, encouraging students to consider installing flooring as a career. With the help of North Ed's Building Trades Instructor Tom Senabaugh and his staff, students now have the opportunity to participate in formal apprenticeship training in the field.
As part of the North Ed program, students earn academic credit by working in the field alongside Bay View Flooring installation crews. Upon completion of the program, graduates officially become employees of the Bay View Flooring team.
Photo: Tim Hyland, owner of Bay View Flooring (center) and two program apprentices